YOUR NEW FAVORITE CANDLES!
Hand Poured | Small Batch | Highly Fragrant | Renewable Soy Wax | Cotton Wicks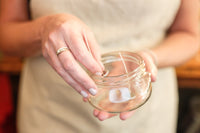 Welcome to Seminole Candle Company!
Thank you for opening your home to our healthy fragrance products. Click to learn more about the maker behind them! 
About Us
Follow these guidelines, you + your Seminole Candle will be a perfect "match."
We ♥️ Our Customers!
"The customer service is amazing and so are the products! I've looked for smells that are similar and can't find them. I really love my fragrances but having year round allergies makes it hard to find something that won't trigger my sinuses. With this company's wax melts, I don't have to compromise my allergies to have a fantastic smelling home! And did I say the customer service is amazing? Because it is!" - Google Review  from Cheryl Coleman, Columbia, SC